SELKIRK, N.Y. (January 24, 2017)
PROSPECT PLAZA WINS 2016 NAHB PILLARS OF INDUSTRY AWARD FOR BEST GREEN BUILDING CONCEPTS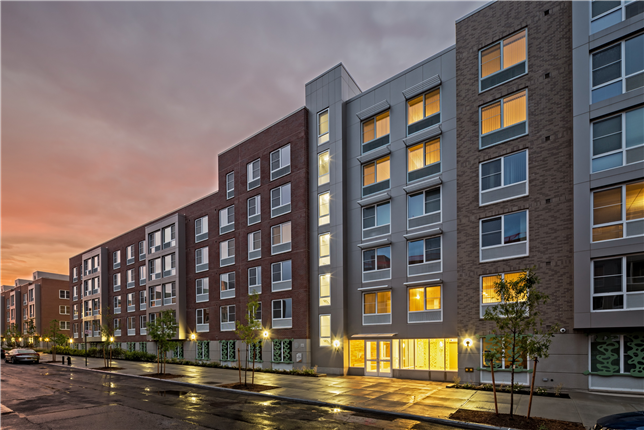 On January 10, 2017, John Jones, Oldcastle, Inc. Executive Vice President and LEED Green Associate, accepted the 2016 National Association of Home Builders (NAHB) Pillars of Industry Award for Best Green Building Concepts on behalf of Blue Sea Development Company for Prospect Plaza Site 1, located in Brooklyn, New York.
Oldcastle Infrastructure Building Systems and Blue Sea Development Company are honored to be the recipient of this prestigious award.
"This year's competition for Best in Green Awards was truly impressive, with more entries than ever before," said NAHB Chairman Ed Brady, a home builder and developer in Bloomington, Ill. "The winners represent the best of the best in environmentally friendly building, development, and remodeling, showcasing the latest in high‐performance building practices and sustainable living."
Oldcastle Infrastructure Building Systems provided the precast concrete building system which includes hollowcore and prestressed concrete slabs, precast concrete beams, interior and exterior wall panels, solid slabs, and precast stairs and landings used to construct a four story walk up, townhouse‐ style buildings, and a five‐and‐a‐half story elevator building. Additionally, they supplied a prefabricated composite metal panelized wall system for the exterior of the building which included shop installation of windows within the prefabricated system.
Moreover, Oldcastle Modular, certified as an off‐site fabricator by the New York City Department of Buildings, Office of Technical Certification, and Research (OTCR), supplied 117 modular, fully out‐fitted bathroom pods for the new housing facilities.
"We are excited and very proud to be a part of this award winning New York Community project and partnering again with Blue Sea Development Company who are committed to building green and sustainable communities and homes," stated David Wan, Regional Manager of Engineering at Oldcastle Infrastructure Building Systems. "The benefits of using these modular technologies together accelerates the construction schedule, provides a safer job site, as well as providing a sustainable quality building."
Prospect Plaza is comprised of 364 units with 80 units of NYCHA public housing, and included space for a new supermarket, a community facility, a rooftop greenhouse, and a new recreation area.
NAHB Prospect Plaza Site 1 – Best Example of Green Building Concepts – Winner
PROSPECT PLAZA SITE 1
Location: Brooklyn, N.Y.
Submitted By: Blue Sea Development Company
Developer: Oceanhill
Architect: Dattner Architects
Marketing Firm: Cornell Pace
About Oldcastle Infrastructure
Oldcastle Infrastructure is the clear choice for building products and services for North American Infrastructure projects. We are a leading provider of engineered product solutions nationwide to a number of market sectors including: Water, Communications, Energy, and Transportation
www.oldcastleinfrastructure.com/