TRACY, Calif. (February 27, 2017)
Oldcastle Enclosures Reaches 4 Years with Zero Recordable Injuries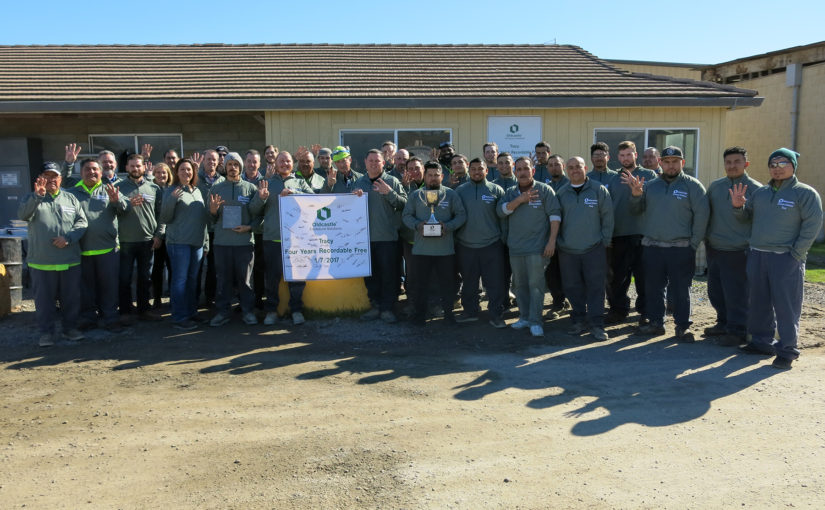 No Oldcastle Enclosures ‐ Tracy employee has missed time, been restricted, or transferred because of injury since January 7, 2013.
2016 was a perfect year for employee safety for Oldcastle Enclosures‐Tracy, Calif. which manufactures plastic, polymer, and concrete enclosure and steel products serving the municipal water, irrigation, electric, telecom, cable, and transportation markets. The company's employees worked approximately 295,000 hours without any Occupational Safety and Health Administration (OSHA) recordable injuries.
Oldcastle Enclosures's strong safety performance began well before last year. There hasn't been an OSHA‐recordable incident since January 2013. The employees have accomplished an impressive safety milestone.
Plant Production Manager Jennifer Perez stated, "Maintaining the highest standards of safety for our employees, as well as our customers and communities, is our top priority at Oldcastle Enclosures. It's essential in potentially hazardous work environments comparable to ours, and every employee is dedicated to putting safety first."
In appreciation of their commitment and to recognize this accomplishment, on January 27, 2017 employees enjoyed a catered luncheon from Famous Dave's BBQ and received gift bags.
"Our entire team worked very hard to be injury free, while keeping costs down and staying productive.  Being injury free for 4 years doesn't happen by luck, it happens because our employees consciously decide daily to do the right thing.  I am extremely proud of the entire team and beyond excited about this great accomplishment.  Consequently, I look forward to 2017 and the great achievements our team will accomplish," said Jennifer Perez.
Furthermore, President of Oldcastle Enclosures, George Heusel commented, "The cohesion and sense of shared purpose across the Tracy team is palpable, and it's what underpins their drive to get better every day.  I'm not surprised that they continue to deliver excellent results, not only in safety performance as exemplified by their injury‐free streak, but in everything they do."
About Oldcastle Infrastructure
Oldcastle Infrastructure is the clear choice for building products and services for North American Infrastructure projects. We are a leading provider of engineered product solutions nationwide to a number of market sectors including: Water, Communications, Energy, and Transportation.
www.oldcastleinfrastructure.com