SAN ANTONIO, Texas (February 22, 2017)
Oldcastle Infrastructure – San Antonio, Texas Goes 4 Years without a Recordable Injury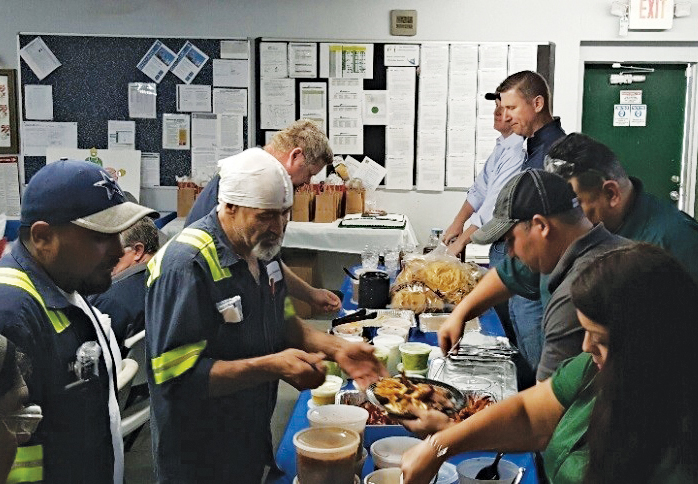 On February 2, 2017, Oldcastle Infrastructure San Antonio achieved four years without an Occupational Safety and Health Administration (OSHA) recordable injury. This is a significant milestone for the plant and it demonstrates the plant's outstanding commitment to safety excellence. This accomplishment is a reflection of an ongoing collaborative effort that not only is driven by the plant management, but also its employees.
On February 2nd, all plant employees, including President of the Central Group Jason Jackson and South Texas Regional General Manager Cory Crawford, gathered for a well‐deserved celebration. Employees enjoyed a special luncheon, catered by Pappas Catering, a renowned Restaurant in San Antonio, that included the plant favorites, steak and chicken fajitas, bacon wrapped shrimp, charro beans, and rice.
As part of the celebration, the employees were encouraged to design a logo that best represented their safety accomplishment. The employee participation, as well as the creativity, was amazing.
During the gathering, Cory Crawford had the honor to announce the 2016 winner of the first Safety Logo Competition. The winner was Darrel Davis, Quality Control Manager.
Site Manager Orlando Rodriguez commented, "I could not be prouder of this team. For us here, every day is another opportunity to improve safety. We are never satisfied with just meeting the standard, we like to exceed standards. Our team understands that the best reward we get is for everyone to go home safe every single day."
Oldcastle Infrastructure would like to congratulate the San Antonio facility for their outstanding safety performance. Achieving four years' injury free shows their overall commitment towards working safely.