REHOBOTH, Mass. (May 23, 2017)
Oldcastle Infrastructure's Skilton Road Bridge Project Wins PCI Best Rehabilitation Bridge Award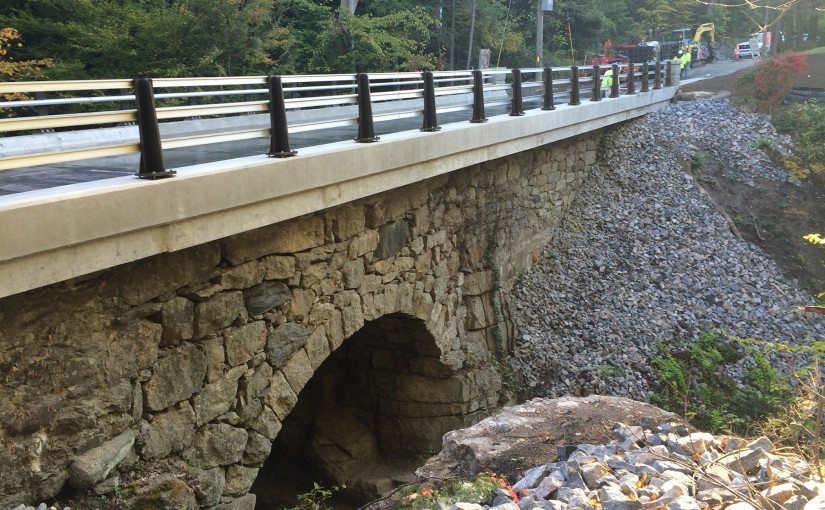 Oldcastle Infrastructure is pleased to announce their latest achievement, the 2016 Precast/Prestressed Concrete Institute's (PCI) Design Award. The repair to Skilton Road Bridge in Watertown, Conn. was selected as the Best Rehabilitation Bridge winner.
"Thankful to the PCI Design Awards' panel of judges, we are honored to be the recipient of this award," said Chris Fowler, Regional Manager‐Engineering of Oldcastle Infrastructure. "As a pioneer in developing innovative concepts for our clients, this bridge structure is just one example of Oldcastle Infrastructure's ingenuity when it comes to creating high quality precast resolutions. We look forward to using our innovative precast concrete technology in future projects."
The new Skilton Road Bridge design had to bring the bridge up to code and extend its life without sacrificing the historical character of the original structure. The designers decided to install a new superstructure consisting of precast, prestressed concrete slabs that would span over the existing arch bridge, thus preserving and protecting the entire historic structure.
Oldcastle Infrastructure designed, engineered and manufactured the precast bridge slabs at their Rehoboth, MA facility.
The use of precast concrete deck slabs allowed the bridge designers to repair the historic masonry bridge while maintaining its aesthetic appeal. Additionally, the designers were able to expand and widen the bridge with minimal impact on the existing bridge structure.
A widely‐regarded industry program, the PCI Design Awards (https://www.pci.org/)) honors design excellence and construction quality in buildings and transportation structures that use precast concrete.
VIDEO: https://www.youtube.com/watch?v=GuaV__a_w30
About Oldcastle Infrastructure
Oldcastle Infrastructure is the clear choice for building products and services for North American infrastructure projects. We are a leading provider of engineered product solutions nationwide to a number of market sectors including: Water, Communications, Energy, and Transportation.
www.oldcastleinfrastructure.com