CHANDLER, Ariz. (August 30, 2017)
Oldcastle Infrastructure Chandler Facility Hosts AZ FOG Group Event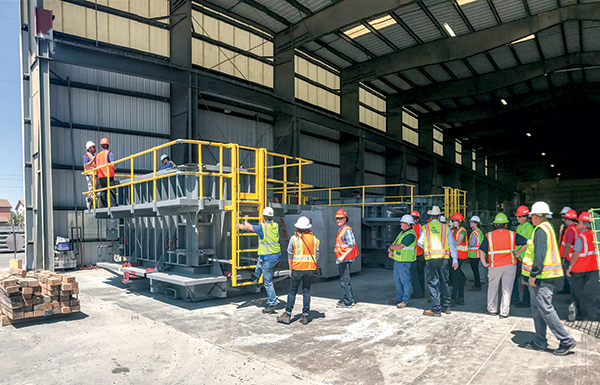 Pouring fats, oils and grease (collectively known as FOG) down your sink will often result in serious damage to residential plumbing as well municipal sewer pipelines. For decades, grease interceptors played an important role in preventing this damage by collecting FOG at the source. However, inadequate product designs and maintenance procedures often result in these systems causing more harm than good.
In Arizona, a multi‐city coalition known as the AZ FOG Group was created to meet on a quarterly basis to discuss industry issues and improve upon sanitary sewer regulations in place to control the discharge of FOG.
On Wednesday, August 23rd, Oldcastle Infrastructure's Chandler facility hosted the AZ FOG Group's quarterly meeting, which included 30+ representatives of various municipal pretreatment agencies, public and private sewer districts and liquid waste haulers from across the state.
During the meeting, the group was introduced to Oldcastle Infrastructure's new Strata Grease Interceptor. The Strata grease interceptor includes innovative, high‐performance features which, when combined with Best Management Practices (BMPs), significantly reduces the amount of FOG entering a sewer system.
After discussing the various features and benefits of the new Strata Grease Interceptor design, the meeting continued with a complete tour of the facility and an opportunity for the group to review the product and tooling.
The AZ FOG Group was very enthusiastic on the innovation Oldcastle Infrastructure is bringing to the market and provided valuable feedback based on their experiences in the field. Oldcastle Infrastructure looks forward to working with this organization and many others like it across the country to help raise the bar for products intended to protect the health and safety of the public.
About Oldcastle Infrastructure
Oldcastle Infrastructure is the clear choice for building products and services for North American infrastructure projects. We are a leading provider of engineered product solutions nationwide to a number of market sectors including Building, Water, Communications, Energy, and Transportation.
www.oldcastleinfrastructure.com