AVON, Conn. (September 28, 2017)
Oldcastle Infrastructure Avon, Connecticut Volunteers Help to Fight Hunger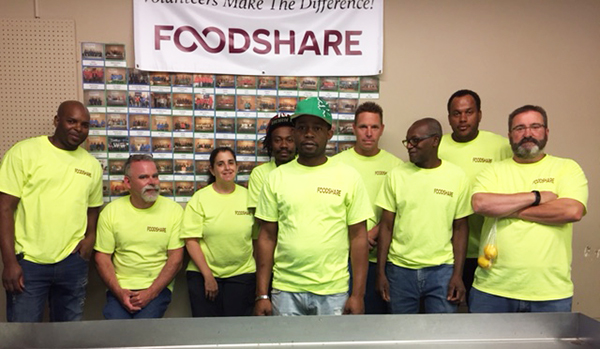 Working towards a hunger free community, Oldcastle Infrastructure Avon, Connecticut decided to partner with Foodshare, a well‐known and highly respected service organization in their community, located in Bloomfield, CT. Foodshare works hard every single day to help those who are struggling with food insecurity.
As part of their commitment, twenty‐four Oldcastle Infrastructure Avon volunteers met at Foodshares' Headquarters and then at the Regional Market in Hartford on June 28th and July 29th. They spent the evening and morning sorting perishable foods, donated by local grocery stores, for immediate distribution to families in need.
"We plan on continuing to partner with Foodshare in the coming years. Just one volunteer shift served helps to ensure that more families will not have to go without food required to thrive," said Troy Mittler, Regional General Manager at Oldcastle Infrastructure. "Moreover, Foodshare staff told our employees that they were the hardest workers they have had and were very impressed that they automatically cleaned up after the work was complete. Housekeeping is instinctive for our guys!  All volunteers received very positive feedback from their experiences. I commend our employees for volunteering for a good cause and supporting their community."
Hunger is an invisible problem, so most people are unaware of how large the problem actually is. In Hartford and Tolland counties alone—the area served by Foodshare—there are 127,000 people who cannot be sure where their next meal is coming from. That includes one out of every six children in the area.
About Oldcastle Infrastructure
Oldcastle Infrastructure is the clear choice for building products and services for North American infrastructure projects. We are a leading provider of engineered product solutions nationwide to a number of market sectors including: Water, Communications, Energy, and Transportation.
www.oldcastleinfrastructure.com