FREDERICKSBURG, Va. (October 26, 2017)
Oldcastle Infrastructure Employees Volunteer at the Fredericksburg Regional Food Bank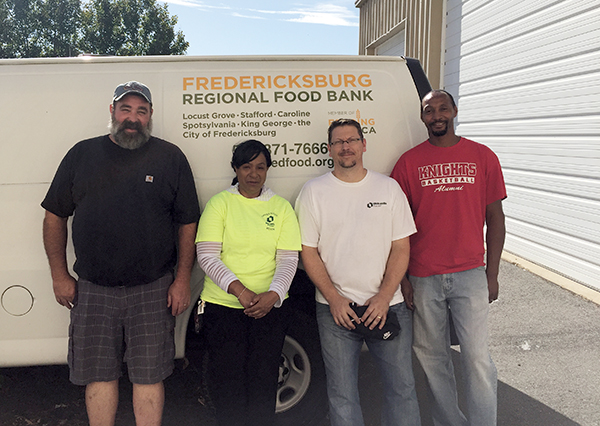 The act of "giving back" means different things to different people. For some, it is a monetary issue, while others might view it as a matter of giving their time. However, for employees of Oldcastle Infrastructure Fredericksburg, giving back to the community manifested itself at a local food bank on October 7, 2017.
For approximately 3 hours, employees packed boxes that would later be distributed to low income seniors and individuals with disabilities.  The Oldcastle Infrastructure team assisted in the placement of canned goods into boxes as they moved down an assembly line. Planned for dispersal during the month of October, over 1,488 boxes were packaged. This volunteer opportunity was of particular importance to the Fredericksburg team, as many communities surrounding their plant are supported by the food bank.
"With all the tragedy of the recent hurricanes, we sometimes lose focus of the fact there are still people in our own communities who are struggling and in need of food and other assistance," said Larry Ramsburg, plant manager of Oldcastle Infrastructure Fredericksburg. "It is amazing to see the impact that a few volunteers, donating a couple hours of their weekend, have on feeding families in need within our community.  Thanks to all of our Oldcastle Infrastructure family who participated in this much‐needed service to our community."
Oldcastle Infrastructure Sales Manager Karen Brock commented, "Acting on an Oldcastle Infrastructure Core Value of helping our communities, we joined with other local volunteers working together for the common good.  It's amazing what we can accomplish in the first two hours of a day, this quick assembly of care packages will impact many people in need.  It is also a privilege to take part in an organized expression of compassion and are glad we took the time to be here."
The Fredericksburg Regional Food Bank serves Caroline County, the City of Fredericksburg, King George County, the Locust Grove community, Spotsylvania County and Stafford County as well as neighboring communities. We are members of Feeding America, a national organization supporting more than 200 Food Banks across the country and the largest domestic hunger relief agency in the United States.
About Oldcastle Infrastructure
Oldcastle Infrastructure is the clear choice for building products and services for North American infrastructure projects. We are a leading provider of engineered product solutions nationwide to a number of market sectors including: Water, Communications, Energy, and Transportation.
www.oldcastleinfrastructure.com