AVON, Conn. (November 10, 2017)
Oldcastle Infrastructure Avon Supports Breast Cancer Awareness During Annual Event "Making Strides Against Breast Cancer"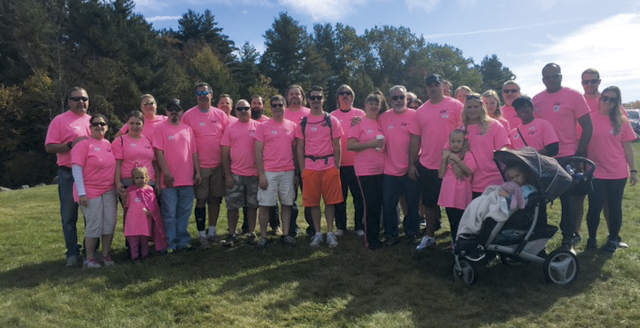 Supporting their community through Litchfield's White Memorial Foundation Annual Making Strides Against Breast Cancer walk
On Sunday October 22nd, at the nature preserve of White Memorial Conservation Center, Oldcastle Infrastructure Avon engaged in this year's "Making Strides Against Breast Cancer Walk" in Litchfield Connecticut to help raise awareness and funding for breast cancer research.
"Making Strides Against Breast Cancer of Litchfield County 2017" involved a 5K (or 3.1‐mile) non‐competitive, non‐timed walk, attracting more than 500 participants and several local teams. Several walkers sported pink T‐shirts, sneakers, feather boas, face‐ painting and hair dyes in hues ranging from salmon to fuchsia. Pink is the official color of the American Cancer Society's yearly nationwide endeavors to raise money for treatment, assistance and research to combat breast cancer.
One of the teams hailed from Oldcastle Infrastructure, a precast concrete manufacturing company in Avon, Connecticut. Plant accountant Dana Bock-Decoteau was one of the company's participating 45 employees and their families who walked. "We are here to raise awareness and money for breast cancer," she said. "It is a significant cause to support and we are happy to have raised $2,710 this year." Oldcastle Infrastructure Avon plans to sponsor next year's event.
The event featured raffle prizes, wood‐fired pizza and a survivors dining tent. Organizers said the event will eventually raise $46,000 by year's end for breast cancer treatment, assistance and research.
"Cancer Facts & Figures 2017," a yearly study by the American Cancer Society, approximates that there will be an estimated 1,688,780 new cancer cases diagnosed and 600,920 cancer deaths in the U.S. this year.  Within that group, 252,710 women will be diagnosed (40,610 will die) and 2,470 men will be diagnosed, 460 will die.
The Making Strides Walk was established in 1984 when Massachusetts breast cancer survivor Margery Gould Rath wanted to find a way to celebrate with fellow cancer survivors and to raise funds. Gould Rath created a "move‐along‐a‐thon." The first event, held in Boston, drew 200 participants and became an annual city tradition. By 1993, the event became officially known as the American Cancer Society Making Strides Against Breast Cancer, attracting 4,000 walkers in New England towns and in 250 communities nationwide. Gould Rath remained a dedicated Making Strides volunteer until she lost her battle with cancer in 2001.
The American Cancer Society estimates that since 1993, more than 13 million walkers nationwide have raised more than $810 million. Funds raised from the event go toward early‐detection education efforts, research and providing information, care and assistance to people impacted by cancer.
For more information about breast cancer, contact the American Cancer Society at 1‐800‐227‐2345 or visit www.cancer.org.
About Oldcastle Infrastructure
Oldcastle Infrastructure is the clear choice for building products and services for North American infrastructure projects. We are a leading provider of engineered product solutions nationwide to a number of market sectors including Buildings, Water, Communications, Energy, and Transportation.
https://oldcastleprecast.com/region/new‐england/