RALEIGH, N.C. (November 16, 2017)
Oldcastle Infrastructure Joins Forces with Habitat for Humanity in Raleigh, North Carolina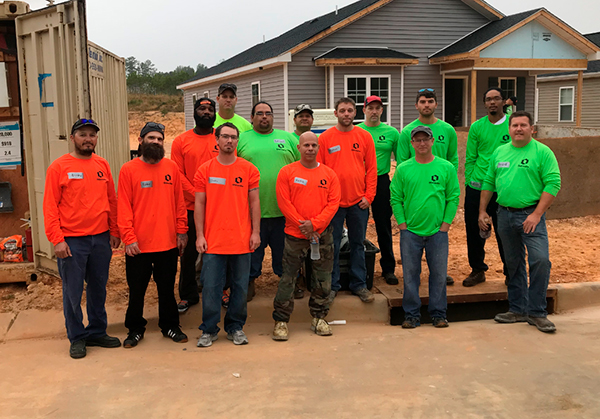 In October, Oldcastle Infrastructure of Raleigh and Fuquay, N.C. teamed up to build homes in Raleigh, North Carolina with Habitat for Humanity.
"In communities across the country, having access to a decent and affordable house is a challenge for countless families," said Robert Amos, Plant Manager for Oldcastle Infrastructure Pipe in Raleigh. "This year, we're working together to assist Habitat families build a place they can call home."
The company says the team completed the roof and siding on one house and completely framed the interior of another house.  At the end of the day, a lot was accomplished.
Plant Manager at Oldcastle Infrastructure Fuquay Steve Zimny said, "The future homeowners were very grateful for our assistance and the Habitat for Humanity employees never imagined we could accomplish so much in a day and hoped we would return again soon."
Serving and strengthening their community, building relationships and working together are core values of the company. Oldcastle Infrastructure is dedicated to making a difference in the communities where their employees live, work and serve.
Habitat for Humanity is a non‐profit group that provides affordable housing to qualifying lower income people that would have difficulty obtaining a conventional type of mortgage.  Habitat for Humanity uses sponsors, material donations, and volunteers to build the houses, along with the homeowner providing labor as well.
About Oldcastle Infrastructure
Oldcastle Infrastructure is the clear choice for building products and services for North American infrastructure projects. We are a leading provider of engineered product solutions nationwide to a number of market sectors including: Water, Communications, Energy, and Transportation.