CROYDON, Pa. (November 20, 2017)
Oldcastle Infrastructure Croydon Giving Back to the Community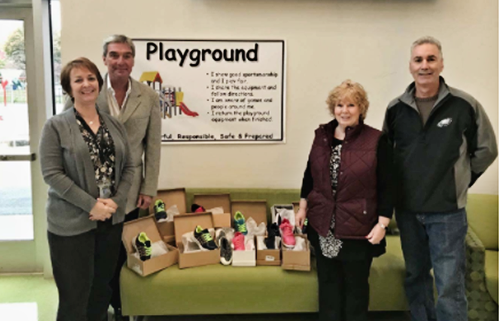 In conjunction with contributions provided to community programs throughout the year, Oldcastle Infrastructure Croydon lent a helping hand to a younger crowd close to home with their "New Kicks for Kids" program.
Oldcastle Infrastructure Plant Manager Allen Reed and Office Supervisor Debra MacMath teamed up with the faculty at Keystone Elementary in Croydon, Pa. to bring a little light into the lives of students who are less unfortunate. 15 brand new pairs of shoes were donated to the school. Accepting the donation was Keystone Elementary Principal George Ciarrocchi and School Nurse Lynn Thompson. "What a great thing to do for our students in need!"
In addition, Oldcastle Infrastructure Croydon donated ten turkeys and forty $25 Walmart gift cards to Keystone Elementary so the children and their families could have a happy holiday.
"With the holidays and cold weather vastly approaching, we must always remember there are children that don't have what they desperately need," stated Debra MacMath Office Supervisor at Oldcastle Infrastructure Croydon.
"We have found a great partner in the local, 1,500 student elementary school. The school staff knows "how and when" to help the families in need and Oldcastle Infrastructure has allowed us the means to help those less fortunate," said Allen Reed Croydon Plant Manager.
About Oldcastle Infrastructure
Oldcastle Infrastructure is the clear choice for building products and services for North American infrastructure projects. We are a leading provider of engineered product solutions nationwide to a number of market sectors including: Water, Communications, Energy, and Transportation.
www.oldcastleinfrastructure.com