POTEAU, Oklahoma (November 20, 2017)
Supply Drive Held for Women's Crisis Services of Leflore County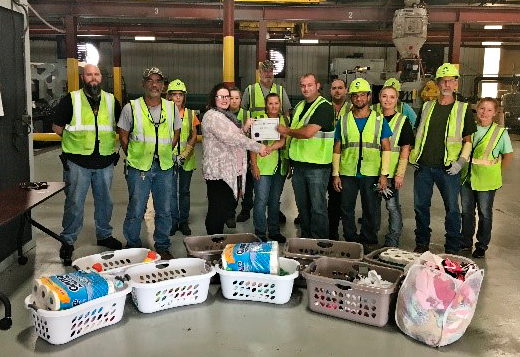 Oldcastle Enclosures Solutions of Poteau, Oklahoma, one of the most innovative and largest manufacturers of enclosure products, donated supplies to Leflore County‐based Women's Crisis Services providing the center with the basic hygiene products many of the women did not have.
Around the clock and all year long, organizations like the Women's Crisis Services of Leflore County serve women and families in crisis. Simply, they need to keep the supplies well‐stocked to continue to serve their community.
An effective way to help is through supply drives. Having an opportunity to do something many of us take for granted, like taking a shower or having a safe place to take our children, can be a game‐changer for a woman escaping a dangerous situation.
Accordingly, Oldcastle Enclosures held a supply drive for basic hygiene products. They established a contribution area inside Oldcastle Enclosure Solution's plant for all employees to furnish hygiene products. On September 9, 2017, the Women's Crisis Center came by the plant to accept the donations.
"Oldcastle Enclosure Solutions and its employees are privileged to support such a great organization," said the Poteau community team. "The Women's Crisis Center was very happy to see the number of products that had been collected by our employees." "WCS would like to say Thank You to Oldcastle Enclosures for their donation earlier this month. We truly appreciate everything you do! Thank you and God Bless!!" said the staff at the Women's Crisis Center. "The time and effort you put into this project is greatly appreciated."
Women's Crisis Services of LeFlore County
The mission of Women's Crisis Services is to provide relief and support for persons who have suffered physical or emotional abuse as a result of family violence, stalking and sexual assault; to empower women and children who have lived in violent relationships and those who are survivors of stalking and sexual assault by utilizing the concept of individual worth, choice, self‐determination and independence; to assist these persons to utilize community resources for the establishment of healthy family relationships and self‐growth, to eradicate the myths and ignorance by enlightening and educating our community; to advocate unceasingly for a non‐violent society. In accordance with this mission, WCS serves and is served by persons of all age, economic, ethnic, lifestyle, racial, religious and social groups.
About Oldcastle Enclosure Solutions
Known worldwide as one of the most innovative and largest manufacturers of enclosure products, Oldcastle Enclosure Solutions uses leading‐edge technology to design, manufacture and supply products for the protection of municipal water, irrigation, electric, telecommunications, cable and transportation infrastructures.
About Oldcastle Infrastructure
Oldcastle Infrastructure is the clear choice for building products and services for North American infrastructure projects. We are a leading provider of engineered product solutions nationwide to a number of market sectors including Building, Water, Communications, Energy, and Transportation.
www.oldcastleinfrastructure.com