PERRIS, Calif. (December 20, 2017)
Oldcastle Infrastructure Perris Facility Attains 2 Years with Zero OSHA Recordable Injuries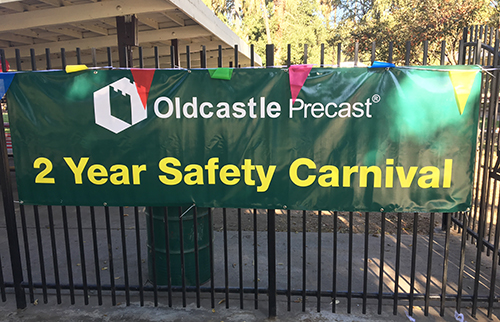 No Oldcastle Infrastructure Perris employee has missed time, been restricted or transferred because of injury since October 2015
Another perfect year for employee safety for Oldcastle Infrastructure Perris, which operates one of Oldcastle's prestress/precast manufacturing plants. The companies approximately 50 employees combined to work roughly 927,429 without any Occupational Safety and Health Administration (OSHA)‐recordable.
Due to extraordinary safety efforts, the Oldcastle Infrastructure Perris team surpassed the two‐year safety milestone on October 15, 2017.
Maintaining the highest standards of safety for our employees, as well as our customers and communities, is our top priority at Oldcastle Infrastructure. It's essential in potentially hazardous work environments like ours, and every employee is dedicated to putting safety first.
Southern Cal Area Safety Manager Adriana Ramirez commented, "Two years of recordable free incidents is an amazing accomplishment!  The team has definitely come a long way from 5 years ago and their safety commitment has just gotten stronger!  There is a sense of family throughout the plant that is contagious and a joy to be around.   Great job Team!  Keep on going home SAFE!"
"I am very proud of the Perris team and the remarkable safety results over the past two years," said Todd Ebbert Southern Cal Regional General Manager. "This is another example of a motivated team all heading in the same direction with the goal of viewing each task through the lens of safety and wellbeing for each member. Congratulations to the entire Perris group"
Perris Site Manager Scott Hicks added, "When we passed the one year mark a year ago we were overwhelmed with what an accomplishment that was. Now that we have made it two years we have come to understand that our achievement is monumental. It has only been possible through the collective efforts of our production crews, office personnel, and management that we have been able to accomplish this. Our production employees have been instrumental in our success by believing in themselves and looking out for each other daily. They care about each other not just as co‐workers but also like family. We are very proud to have reached this milestone and are looking towards making it another year injury free, one day at a time."
Recognizing the team's hard work and dedication to safety, employees and their families were treated to a day of carnival games, jump houses, face painting, and of course lots of catered food. Each employee was given a commemorative jacket and small pocket knife in honor of their pursuit of safety excellence.
About Oldcastle Infrastructure
Oldcastle Infrastructure is the clear choice for building products and services for North American infrastructure projects. We are a leading provider of engineered product solutions nationwide to a number of market sectors including: Water, Communications, Energy, and Transportation.
www.oldcastleinfrastructure.com