Selkirk, NY (January 10, 2018)
Oldcastle Infrastructure Construction/Erecting Team Celebrates Impressive Safety Record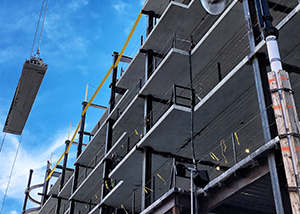 Oldcastle Infrastructure employees complete over a year with no recordable workplace injuries.
Since November 11, 2016, Oldcastle Infrastructure's Construction/Erecting Team of South Bethlehem, New York has gone without an OSHA recordable injury. A tremendous feat in the construction industry when speaking about ever changing job sites.
Having a unique scope of work, the Construction/Erecting Team works inside, outside, on the ground and on top of buildings in the cold, rain, snow and heat when erecting their precast concrete products. They travel to new sites each day and typically encounter uncontrolled environments with a new set of hazards.
"To be able to adjust to each situation, identify hazards, get the job done and have ZERO accidents is a huge accomplishment," stated Shawn Biel, Assistant Field Manager of Oldcastle Infrastructure.
Field Safety Manager Benjamin Jump remarked, "Everyone in the field is doing a great job, from the Foreman, who coaches and selects the right men for the right task each day, to the newest employee, who knows they can ask questions and recognizes they will not be put into a situation they don't feel comfortable in. Our safety training is not just once a year, but every day, and it shows."
"Continually striving to create a safe and efficient worksite where there are no accidents and no one gets hurt is our goal," stated Field Manager Patrick Maslyn. "We provide employees with the necessary resources, equipment and training to deliver according to their designated responsibilities.  The morning safety huddles, as well as our weekly online meeting where we share safety concerns witnessed on a particular job, help make us a "tight knit" group. Everyone on the crew is doing a great job looking out for the safety of their fellow crew members, in addition to other trade safety, on all jobs."
"This is only the second time in the last 17 years that our Construction Team has gone without a recordable for a year which is a great accomplishment," stated General Manager Chris Speck.  "The guys are really working as a team to keep each other safe and the results are an attribute to what can be done when everyone is and believes that they are responsible for safety.  I look forward to the Team's accomplishments in 2018 as we continue to only get better."
Oldcastle Infrastructure ensures that our companies provide a healthy and safe workplace for our employees and contractors, and take due care of all customers and visitors at our locations.
About Oldcastle Infrastructure
Oldcastle Infrastructure is the clear choice for building products and services for North American infrastructure projects. We are a leading provider of engineered product solutions nationwide to a number of market sectors including Building, Water, Communications, Energy, and Transportation.
www.oldcastleinfrastructure.com