ATLANTA, Ga. (April 18, 2018)
New BioPod™ Biofilter with StormMix™ Media Receives Washington State Department of Ecology Approval | Oldcastle Infrastructure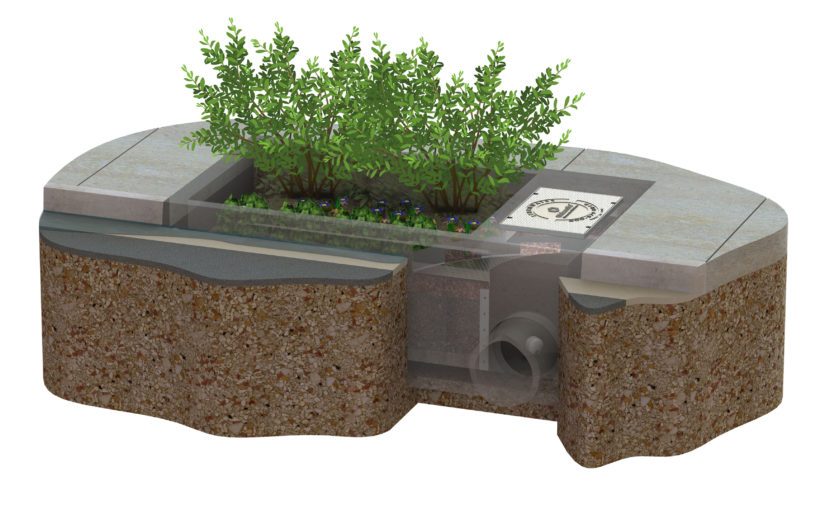 Oldcastle Infrastructure announces that the BioPod biofilter with StormMix media, a high performance, high flow rate (153 inches/hour) soil, has received a General Use Level Designation (GULD) for Basic, Phosphorus and Enhanced Treatment from the Washington State Department of Ecology (Ecology). After a comprehensive review of field data, Ecology has approved the BioPod with StormMix media for applications where removal of at least 80% of total suspended solids (TSS) and 50% of total phosphorus is required, as well as significant reductions in dissolved metals like copper and zinc.
BioPod systems use an advanced tree box filter design to provide filtration, sorption, and biological uptake to remove TSS, nutrients, dissolved metals, gross solids, trash and debris, and total petroleum hydrocarbons from stormwater runoff. Environmentally friendly and aesthetically pleasing, the BioPod biofilter is a proven, Low Impact Development (LID) solution for stormwater treatment. BioPod structures integrate seamlessly into standard site drainage systems and can accommodate a wide variety of vegetation to meet green infrastructure requirements.
The BioPod biofilter with StormMix media, is offered in four configurations: BioPod Vault with StormMix Media only, BioPod Planter with Vegetation & StormMix Media, BioPod Planter with Tree(s) & StormMix Media, and BioPod Underground Vault with StormMix Media only.
"The Ecology approval of the BioPod biofilter with StormMix media is the culmination of four years of intensive development work", said Jay Holtz, PE, Oldcastle Infrastructure Infrastructure's Director of Engineering. "The combination of the BioPod structure with StormMix media provides a real step forward in stormwater treatment since the media is so clean and effective, and the system is so efficient. By specifying the BioPod biofilter with StormMix media, designers can help the development community meet the most stringent treatment standards in a compact and green footprint."
About Oldcastle Infrastructure
Oldcastle Infrastructure, A CRH Company, is the leading provider of building materials, products and services for infrastructure projects to several market sectors nationwide, including: Building Structures, Communications, Energy, Transportation and Water.
For more information, visit www.oldcastleinfrastructure.com
About CRH
CRH (LSE: CRH, ISE: CRG, NYSE: CRH) is a leading global diversified building materials group, employing c.85,000 people at c.3,600 operating locations in 32 countries worldwide. With a market capitalisation of c.€23 billion (April 2018), CRH is the largest building materials company in North America and the second largest worldwide. The Group has leadership positions in Europe as well as established strategic positions in the emerging economic regions of Asia and South America. CRH is committed to improving the built environment through the delivery of superior materials and products for the construction and maintenance of infrastructure, housing and commercial projects. A Fortune 500 company, CRH is a constituent member of the FTSE 100 index, the EURO STOXX 50 index, the ISEQ 20 and the Dow Jones Sustainability Index (DJSI) Europe. CRH's American Depositary Shares are listed on the NYSE.
For more information, visit www.crh.com