HOUSTON, Texas (September 20, 2017)
Oldcastle Infrastructure Houston Quickly Transitions Efforts to Support Employee Family's, Effected by Hurricane Harvey, Immediate Need for Food, Water, and Shelter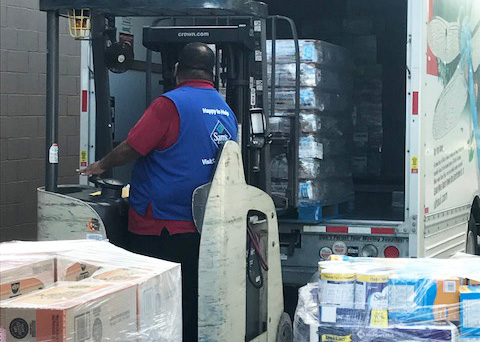 On August 25, 2017 one of the worst weather events in United States history made landfall in Houston, Texas. With that said, the Central Region within Oldcastle Infrastructure made preparatory arrangements with the southern plants to prepare for the impact and relief once the storm had passed.
Calls with the plant management team and the regional safety manager were held to ensure all preparations were made for our families and facilities.
After the flooding event unfolded, 2 crisis calls were held daily to report the status of the families. Each plant manager contacted their employees daily to determine their whereabouts, status of their homes and cars, and any special needs.
Employee tracking spreadsheets for both facilities were utilized to assist in disaster planning. Even when the General Manager and Plant Manager became personally impacted by flooding and evacuations, the tracking spreadsheets were seamlessly routed to the Mansfield factory, continuing accountability calls with their southern families.
By Wednesday, August 30th, 95% of the employees and their families were located and their needs identified. Ultimately, 25 families needed to be evacuated, and had some level of damage to their homes, ranging from 3 inches to 3 feet of standing water inside.
With this level of communication and tracking, they could quickly transition their efforts to support the immediate needs of food, water, and shelter. A large U‐Haul truck was obtained and loaded with the necessary supplies and delivered to the Houston teams, along with ensuring every family had a dry place to stay.
Central Region EH&S Manager Joe Malato said, "Oldcastle Infrastructure is a family of families and there is nothing more important than our employees and their families. Getting the supplies to our families was an easy decision to make."
Many employees throughout the company asked how they could help, consequently Regional Safety Manager, Joe Malato set up a "Go Fund Me" account to assist in purchasing needed materials, in an attempt to return families to their homes.
Central Region Operational Excellence Director, Glenn Stinson stated, "Our Oldcastle Infrastructure family is our greatest asset and it was an honor serving them and their families in an attempt to minimize the impact of the storm. It was through the giving nature of Oldcastle Infrastructure that it was possible to positively impact our employees in such a meaningful manner.
The funds collected in this Go‐Fund Me account were used to purchase drywall, drywall supplies, and other building materials the families needed to get back into their homes.
About Oldcastle Infrastructure
Oldcastle Infrastructure is the clear choice for building products and services for North American infrastructure projects. We are a leading provider of engineered product solutions nationwide to a number of market sectors including: Water, Communications, Energy, and Transportation.