SELKIRK, NY (October 23, 2017)
Oldcastle Infrastructure Selkirk Employees Help Local Elementary Students Prepare for Success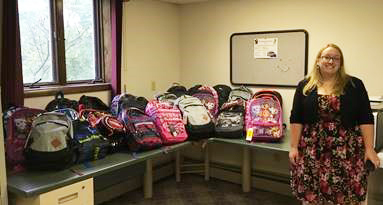 Recognizing the need in local elementary schools, Specialty Projects Manager Jeanette Sullivan organized a School Supply Drive to collect and fill backpacks for students as they prepare for the new school year.  Through the generosity of Oldcastle Infrastructure's Building Systems Division employees, she collected enough supplies to fill fifteen backpacks!  Oldcastle Infrastructure matched the donations with another fifteen backpacks, making it possible for Jeanette to deliver thirty backpacks to local children, ensuring they have the tools for a successful school year.
"I was very proud of how the whole team came together with a great idea that was so impactful to benefit the kids and the families of the local community," said Chris Speck, VP and Regional Manager at Oldcastle Infrastructure.  "It was awesome to see how excited and appreciative the teachers and administration at these schools were for our donation and while it may not seem like a lot, it was very evident that these 30 children will greatly benefit from Oldcastle Infrastructure's generosity."
Each backpack was filled with crayons, colored pencils, markers, pencils, erasers, ruler, highlighters, pencil sharpener, pencil box, binder, binder dividers, loose leaf paper, glue sticks, Elmer's glue, scissors, pocket folders, notebooks, calculator, and ear buds. A separate box was also packed containing classroom supplies such as tissues, wipes, pens, post‐it notes, index cards, and baggies.
On Friday, August 18th, Oldcastle Infrastructure presented the supplies and backpacks to Pieter B Coeymans Elementary School.  "Thank you SO much for the donations", said Fred Engelhardt, Assistant Superintendent for Ravena‐Coeymans‐Selkirk District. "Mr. Jones and the secretarial staff could not stop talking about how nice it will be for our children who are in need, to receive such a wonderful start to the school year!!"
In addition, Oldcastle Infrastructure presented supplies and backpacks to Troy City School District on Monday, August 21st. Troy City Coordinator of Grants and Funded Programs Juli Currey remarked, "Thank you so much for thinking of Troy!! The students in our district can definitely use them."
Oldcastle Infrastructure would like to thank all of the employees who donated supplies, funds and help for the drive.  Special thanks to Meagan Palmer, JoAnn Hildenbrandt and Ashley Allsop for their time organizing and shopping, and to Jeanette Sullivan for her dedication to ensuring our community kids are prepared for academic success!
About Oldcastle Infrastructure
Oldcastle Infrastructure is the clear choice for building products and services for North American infrastructure projects. We are a leading provider of engineered product solutions nationwide to a number of market sectors including: Water, Communications, Energy, and Transportation.
www.oldcastleinfrastructure.com