CAROLINAS (September 25, 2017)
Oldcastle Infrastructure Carolinas Continue to Help Feed the Hungry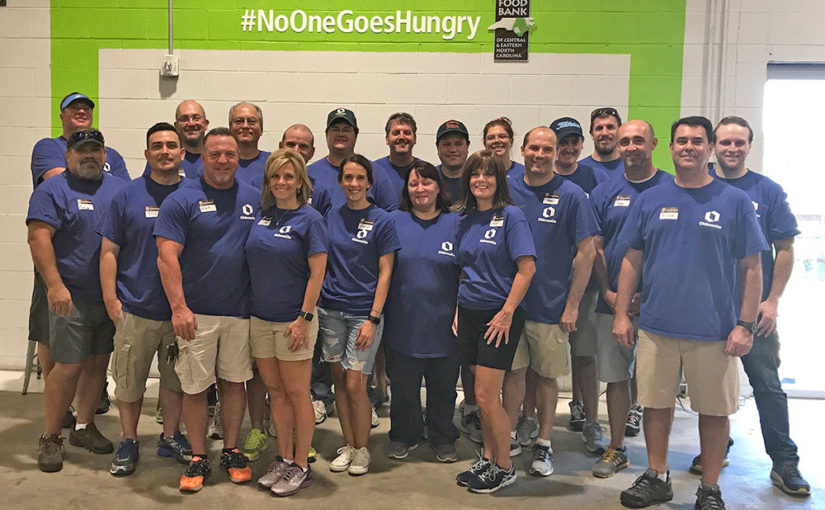 As part of their ongoing commitment to fighting food insecurity and hunger, Oldcastle Infrastructure Carolinas' "Feed the Hungry" campaign is continuing to help raise awareness and provide on‐going support to food banks and pantries in its service areas in the Carolinas.
As a result of their efforts, on Saturday, August 19th, Oldcastle Infrastructure Carolinas employees gathered at The Food Bank of Central & Eastern North Carolina for their 2nd Annual "Feed the Hungry" community event. The Food Bank of Central & Eastern North Carolina provides food for 34 counties surrounding the Raleigh area.
The Oldcastle Infrastructure team spent the day sorting through potatoes provided from local farmers.  Yes, you read correctly, "potatoes". Large bins of potatoes were sorted into smaller 8‐lb bags. In all, the team processed 12,000 lbs. of potatoes, which equates to 10,105 meals. All the potatoes were distributed within 24 hours and delivered to other agencies and shared with 5 other locations.
"With over 650,000 people in eastern and central North Carolina who are food insecure, our employee volunteers are eager to be part of this important work to prepare food for those in need across the state," remarked Kevin Blackwell, Vice President / RGM Carolinas Region at Oldcastle Infrastructure. "I would like to give a big thank you to everyone who gave up their day and volunteered at the Food Bank on Saturday, in Raleigh. Equally important, the day was a lot of fun and definitely for a great cause."
The mission of the Food Bank of Central & Eastern North Carolina is: No One Goes Hungry in Central & Eastern North Carolina.
Established in 1980, the Food Bank is a nonprofit organization that has provided food for people at risk of hunger in 34 counties for over 35 years. The Food Bank serves a network of more than 800 partner agencies such as soup kitchens, food pantries, shelters, and programs for children and adults through distribution centers in Durham, Greenville, New Bern, Raleigh, the Sandhills (Southern Pines) and Wilmington.
About Oldcastle Infrastructure
Oldcastle Infrastructure is the clear choice for building products and services for North American infrastructure projects. We are a leading provider of engineered product solutions nationwide to a number of market sectors including: Water, Communications, Energy, and Transportation.
www.oldcastleinfrastructure.com