Nutrient Separating Baffle Box® (NSBB™)
SUPERIOR HYDRODYNAMIC SEPARATION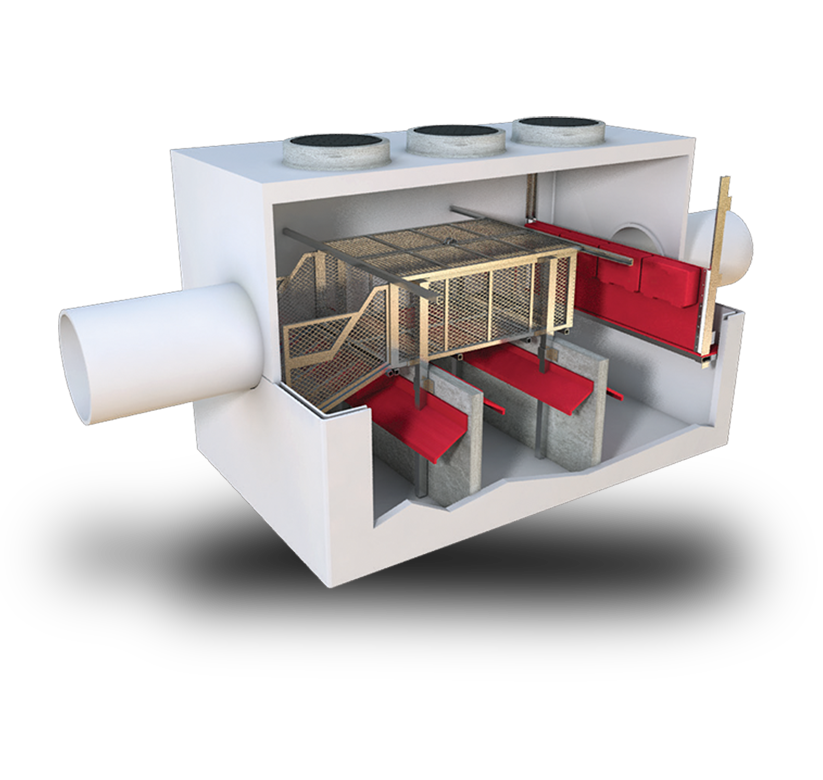 Overview
The Nutrient Separating Baffle Box (NSBB) is an advanced vault treatment system for storm water runoff. Its patented screen system is designed to capture and store debris in a dry state to minimize nutrient leaching and allow for easy servicing. The NSBB's triple chamber design affords high TSS removal over a wide range of particle sizes, while patented deflectors ensure no sediment scouring occurs during high flows. This allows for on-line installation without the need for separate diversion structures. The NSBB is a widely accepted storm water treatment BMP among developers, civil engineers and municipalities nationwide.
Features
EASY TO INSTALL, SIMPLE TO SERVICE.
Benefits:
Retrofits existing watersheds
Patented screens maximize storage and prevent debris loss
Easy vacuum truck servicing
Dry state storage separates debris and trash from water and sediment
Will not go septic between storms
Captures thousands of pounds of debris, sediment and nutrients
Pretreatment for rainwater harvesting and detention areas
Meets requirements for full trash capture TMDL programs
NSBB removal efficiencies up to:*
20% Nitrogen
19% Phosphorous
90% TSS
*Varies based on sizing & site conditions
LEED Credit Eligible:
6.2             Storm Water Design / Quality Control
INSTALLATION
Low pick weights: comprised of multiple sections
Fast set: pre-installed internal components (optional)
Minimal excavation required
OPERATION
Runoff filters through the screen, leaving behind pollutants while hydrocarbons collecting in front of the skimmer and are absorbed by the StormBoom™.
Patented turbulence deflectors prevent sediment from becoming resuspended and settle in lower chambers.
Nutrient pollutant load is not lost to static water and will not be flushed out during the next storm event.
Separating organic matter from the static water prevents bacterial buildup.
MAINTENANCE
Easy maintenance access via top hatches / manholes without need for confined space entry.
Hinged screens allow for full vacuum access to inner basket and lower sediment chambers.
After cleaning sediment chambers, close and secure bottom screen doors to prevent debris loss.
WATER QUALITY ECO-FRIENDLY SUSTAINABLE
The Nutrient Separating Baffle Box is a multi-stage, self contained treatment system. Each subsequent component within the system protects prior stages from clogging issues or failures. These stages include filtration, hydrodynamic separation and hydrocarbon absorption.
Filtration is provided by a rectangular screen system which is suspended above the static water level. The screen has a storage capacity of several cubic yards depending on the model and a primary function to capture gross solids such as trash and debris.
Hydrodynamic Separation is facilitated by three settling chambers which work to target smaller sediments and particulate metals.
Absorption is facilitated by the StormBoom(s), that are either free floating or attached to the influent side of the skimmer. This device removes free floating and emulsified hydrocarbons from water.
Patented Hydro-Variant Technology®: The innovative SkimBoss MAX automatically adjusts to hydraulic grade changes to allow for maximum sediment settling without compromising watershed hydrology.
Patented screen system prevents debris loss and nutrient leaching. No need to service after each storm with dry state storage as compared to competing treatment systems.
NSBB Options: Service Tools & Outreach Accessories
HydroSlide®
The HydroSlide system enables the lower sediment chambers to be easily serviced by a vacuum truck. This maximizes service results while simultaneously reducing overall maintenance efforts and costs.
Sungate™ Flow Control
The SunGate is a flow control gate used to isolate an NSBB for servicing when under a significant base flow. The gate is easy to deploy under full hydraulic load and does not require confined space entry.
Sunview™ Observation Cover
The Sunview observation cover is an excellent community outreach tool. Its clear lid and accompanied signage are a great choice to satisfy education requirements for 319 grant funding and NPDES programs.
SkimBoss Upflow Filter
The SkimBoss upflow filter system uses Hydro-Variant Technology and Bold & Gold® biosorption media to increase detention time in order to highly reduce TSS, nutrients, metals and turbidity.
SkimBoss MAX
The SkimBoss MAX harnesses Hydro-Variant Technology, variable hydrology and its shelf system to increase detention times, which result in increased sediment settling and capture performance.
SkimBoss Floating Skimmer
The SkimBoss Floating Skimmer prevents buoyant pollutants from passing through an NSBB vault. Hydro-Variant Technology and inflow side buoyancy allow the skimmer to adjust to hydraulic grade changes.
StormBoom Media
Media Blends
Type 1 Hydrophobic Treated Cellulose
Wide spectrum absorbent with large sieve covering. Capable of absorbing chemicals other than hydrocarbons.
Type 2 Melt Blown Polypropylene
A non biodegradable large sieve size covering that is limited to only hydrocarbon absorption.
Type 3 50 – 50 Types 1 & 2 Blend
Half & half blend of Hydrophobic Treated Cellulose and melt blown polypropylene with a large sieve size covering. This media offers wide spectrum absorption with an emphasis on hydrocarbons.
Type 4 Polymer Crumb Filler
A polymer filler with a fine sieve size covering that will not absorb water, can float indefinitely and is non biodegradable.
Specs & Downloads
Helpful Information
No results found
That's ok. We can still help!
Try expanding your search radius
Reduce your refinement filters
Try searching for your product
Contact a Representative and ask for product support
Loading...