Nutrient Separating Baffle Box® (NSBB®)
SUPERIOR HYDRODYNAMIC SEPARATION
The Hydrodynamic Separator Selection Tool identifies the correct system that fits your site specific stormwater treatment requirements. This tool will use site specific inputs to walk you through the selection process and provide product details upon completion.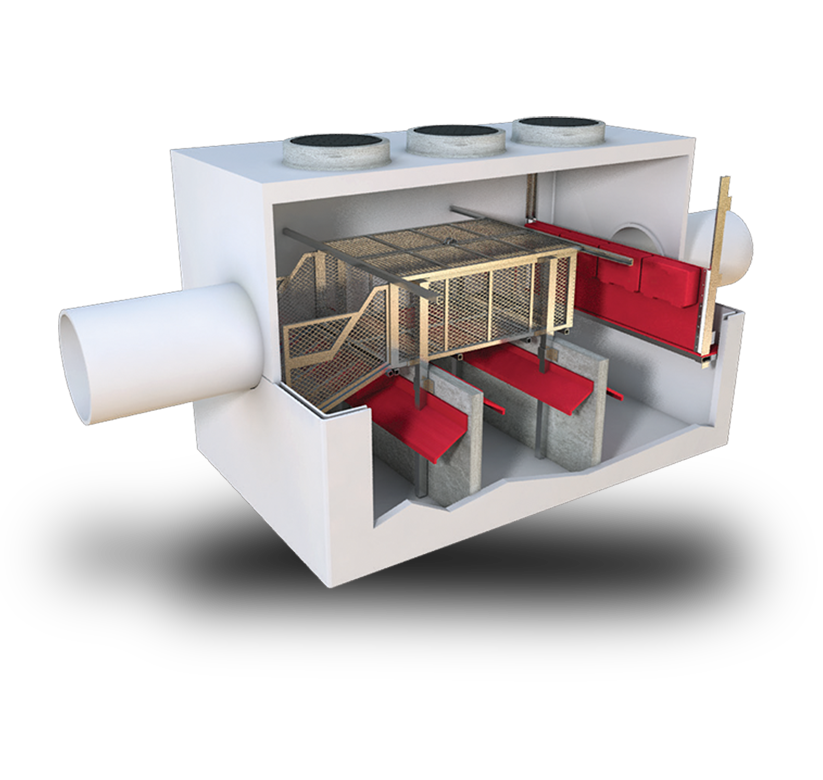 Overview
The Nutrient Separating Baffle Box (NSBB) is an advanced vault treatment system for storm water runoff. Its patented screen system is designed to capture and store debris in a dry state to minimize nutrient leaching and allow for easy servicing. The NSBB's triple chamber design affords high TSS removal over a wide range of particle sizes, while patented deflectors ensure no sediment scouring occurs during high flows. This allows for on-line installation without the need for separate diversion structures. The NSBB is a widely accepted storm water treatment BMP among developers, civil engineers and municipalities nationwide.
Features
EASY TO INSTALL, SIMPLE TO SERVICE.
Benefits:
Retrofits existing watersheds
Patented screens maximize storage and prevent debris loss
Easy vacuum truck servicing
Dry state storage separates debris and trash from water and sediment
Will not go septic between storms
Captures thousands of pounds of debris, sediment and nutrients
Pretreatment for rainwater harvesting and detention areas
Meets requirements for full trash capture TMDL programs
NSBB removal efficiencies up to:*
20% Nitrogen
19% Phosphorous
90% TSS
*Varies based on sizing & site conditions
LEED Credit Eligible:
6.2             Storm Water Design / Quality Control
INSTALLATION
Low pick weights: comprised of multiple sections
Fast set: pre-installed internal components (optional)
Minimal excavation required
OPERATION
Runoff filters through the screen, leaving behind pollutants while hydrocarbons collect in front of the skimmer.
Patented turbulence deflectors prevent sediment from becoming resuspended by settling in lower chambers.
Nutrient pollutant load is not lost due to static water and will not be flushed out during the next storm event.
Separating organic matter from the static water prevents bacterial buildup.
MAINTENANCE
Easy maintenance access via top hatches / manholes without need for confined space entry.
Hinged screens allow for full vacuum access to inner basket and lower sediment chambers.
After cleaning sediment chambers, close and secure bottom screen doors to prevent debris loss.
WATER QUALITY ECO-FRIENDLY SUSTAINABLE
The Nutrient Separating Baffle Box is a multi-stage, self contained treatment system. Each subsequent component within the system protects prior stages from clogging issues or failures. These stages include filtration, hydrodynamic separation and hydrocarbon absorption.
Filtration is provided by a rectangular screen system which is suspended above the static water level. The screen has a storage capacity of several cubic yards depending on the model and a primary function to capture gross solids such as trash and debris.
Hydrodynamic separation is facilitated by three settling chambers which work to target smaller sediments and particulate metals.
Patented screen system prevents debris loss and nutrient leaching. No need to service after each storm event with dry state storage as compared to competing treatment systems.
Specs & Downloads
Helpful Information