StarTrack® Rail Solutions
StarTrack® Railroad Products have been installed in hundreds of projects throughout the country since 1987, resulting in rail solutions that can be counted on to provide decades of reliable service.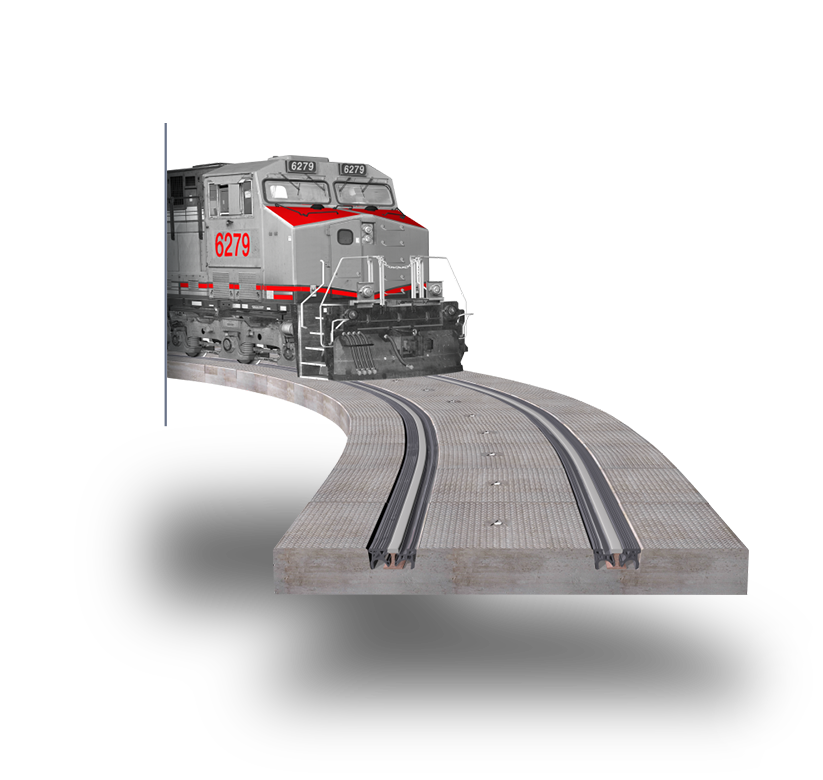 Overview
Why StarTrack®
Oldcastle Infrastructure is the industry leader in developing solution driven products. Our well-publicized commitment to R&D and innovative engineering has resulted in many new products for the railroad industry. Extra heavy loading, curved alignments, anti-vibration systems, and environmental protection collection systems are but a few of the innovative solutions we offer.
Features
Easy to Install
Codes
Radius Track
Heavy Duty Port/Intermodal
Fast Service
Cost Savings
Quality Control
In-House Engineering & Design
Class I Railroad Approved
Reliability
On-Site Contractor Assistance
Benefits
Modules designed for fast installation with 4 hook lift anchors embedded in each piece.
Designed to meet AREMA standards and Cooper E-80 Loading plus 60% impact factor.
Custom "pie-shaped" pieces to meet the curvature of the track.
StarTrack® HD Modules are the proven and preferred crossing of America's Largest Ports and Class I Intermodal Yards.
Quick and easy project help by our national team with pricing and layouts.
Highly competitive installed and life-cycle costs.
Manufactured to the rigid standards of the Oldcastle Infrastructure quality control programs at our facilities nationwide.
Professional engineering staff and industry leading computer design software provide technical support and stamped drawings when required.
In service with Class I RR's and successfully tested on the Heavy Axle Load Loop (HAL) at the Transportation Technology Center in Pueblo, CO.
Over 150,000 track feet installed without a single structural failure.
Experienced StarTrack® sales and service personnel available to support installations.
Standard Crossing
Our Standard StarTrack® is designed for Cooper E-80 Loading with 60% impact; a long lasting, maintenance free crossing surface for freight, commuter, and light rail applications. Standard crossings are 8' wide x 14" thick and are available in 2 lengths (5', 7.5'). Custom pie-shaped pieces are available to meet the curvature of the track.
Heavy Duty Crossing
StarTrack® HD Crossing Modules are the proven and preferred crossing of America's largest ports and intermodal facilities. This is our solution to heavy traffic applications and areas with bad subgrade. HD crossings are 11' wide, 16" thick and 5' long. Custom pie-shaped pieces available to meet curvature of track.
DripTrack
StarTrack® DripTrack Modules are the proven and preferred product for sites requiring containment of drips and spills.  Our system provides a durable and permanent solution that can be combined with other systems for larger containment volumes. Standard size is 5' long by 11' wide.  Custom pie shaped pieces are available to accommodate curved track.
Rail Scale
Most weigh-in-motion rail scales require concrete approaches and foundations for the weigh cell. We team with rail scale manufactures to provide modular precast track support systems to meet scale requirements, allowing projects to be installed quickly with no doubts on quality.
Inspection/Containment Pit
Our vehicle/locomotive inspection/containment pits provide a safe access for inspections and are easily customized with lighting, electrical, and stairs.  They can also be used for spill containment.
Conveyor Pit
Our custom built conveyor/unloading pits are engineered to meet AREMA Standards. Our systems install quickly with minimal QC required in the field, allowing conveying and track operations to begin soon after installation.
Wash Bay
StarTrack® systems can be customized to provide drainage into a French drain or an inline drain creating easily serviceable Truck/Train-wash stations.
Specs & Downloads
Helpful Information
Name
Model
Height
Width
Length
Diameter
Downloads
Quote Generator
5'x8′ StarTrack Rail Crossing
ST58
1' 2"
5'
8'
View
Add
7′-6″x8′ StarTrack Rail Crossing
ST78
1' 2"
7' 6"
8'
View
Add
8'x17′-6″' StarTrack Rail Crossing
ST178
1' 2"
8'
17' 6"
View
Add
5'x11′ StarTrack HD Rail Crossing
STHD511
1' 4"
5'
11'
View
Add
5'x20′ Rail Car Inspection Pit
INSP520
5'
6' 4"
20'
View
Add
5'x20′ Railroad Spill Containment
SPILL520
5'
6' 4"
20'
View
Add
5'x11′ Railroad Drip Track
DRIP511
1' 4"
5'
11'
View
Add
Railroad Conveyor/Unloading Pit
CONPIT
View
Add
Railroad Rail Scale
RRSCALE
View
Add
Railroad Train Wash Bay
RRWASH
View
Add
Railroad Frog Crossing
RRFROG
View
Add
Loading...