Christy®
The Christy® product line is spec-approved for a number of municipalities and cities throughout the United States.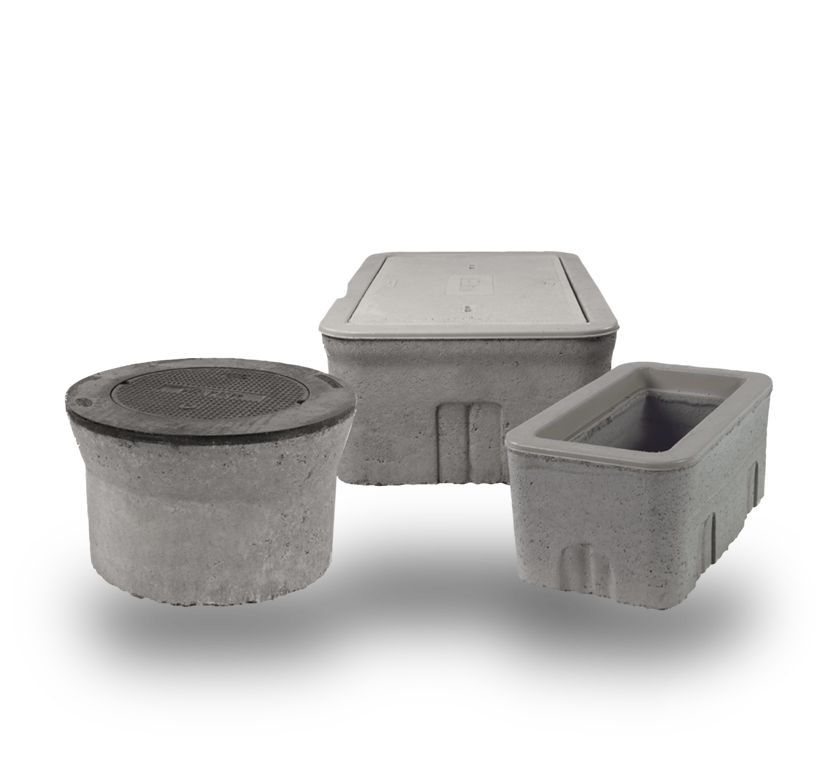 Overview
RELIABLE AND COST-EFFECTIVE.
Christy® concrete products deliver reliable, cost-effective performance. The Christy® product line offers a wide variety of sizes making it the preferred choice for many applications. You can depend on the trusted Christy® product line, delivering reliable hand holes, valve boxes, meter boxes and vaults to the utility market for over 40 years.
Features
Our Christy® concrete products provide reliable, cost-effective solutions to protect underground components.
DURABLE
Concrete is suitable for a range of uses due to its proven compressive strength and durability. Heavy lids are unaffected by commercial mower suction, and the rolled Plastic Cap edge helps prevent blade strikes. Concrete lids also resist puncture damage from commercial aerators.
STRONG
Christy® concrete products combined with a steel cover and steel frame are suited for deliberate roadway traffic.  Christy® offers a unique locking grade ring to assure permanence and quality of surface grades when streets are re-paved. Careful engineering reduces the danger of lid "pop-out" in high traffic areas; bolt down is recommended.
EASILY MODIFIED
Contractors and installers can quickly and easily field modify
Christy® concrete products.
VARIETY OF SIZES
Available in a variety of sizes and the ability to be stacked in some applications, Christy® enclosures are a flexible solution for your project needs.
Specs & Downloads
Helpful Information