Oldcastle Polymer
Oldcastle Polymer is produced using a precise dry mix of select gravel, and sand, which is bound with resin and a fiberglass fabric. This mixture and our new manufacturing process results in high flexural and tensile strength yet maintain the lowest weight.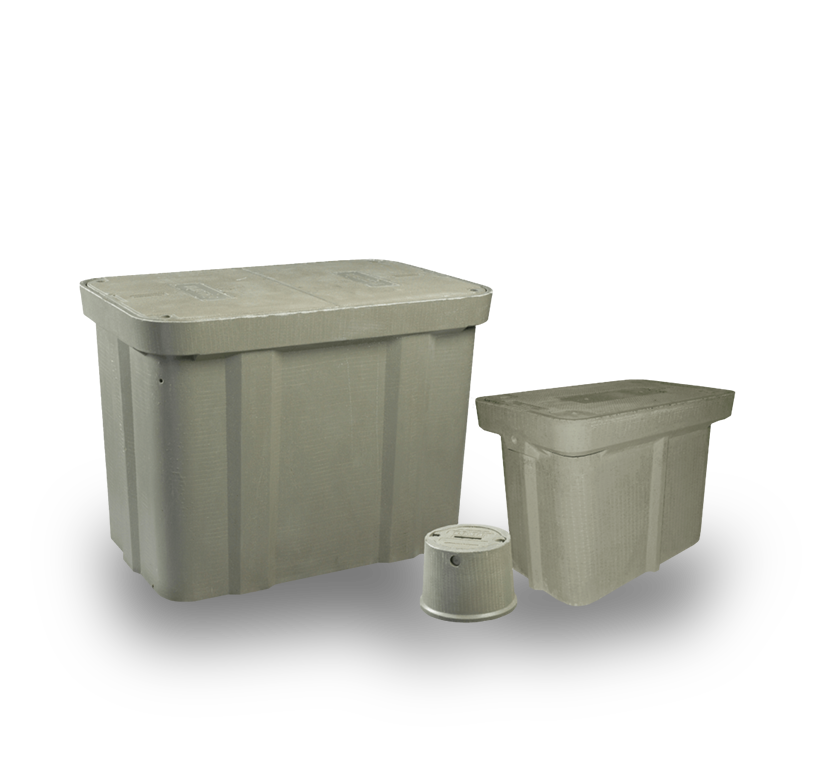 Overview
DURABILITY DELIVERED THROUGH INNOVATION.
Oldcastle Polymer enclosures deliver strength and durability like traditional concrete, but at a fraction of the weight. The Oldcastle Polymer brand offers a broad range of sizes and configurations to meet your needs. These enclosures provide medium to heavy duty solutions for vaults, splice boxes and meter boxes ideal for any industry – municipal water, telecommunications, and other commercial and industrial applications.
Features
SUPERIOR COMPRESSIVE AND FLEXURAL STRENGTH COMPARED TO TRADITIONAL CONCRETE.
LIGHT IN WEIGHT
Oldcastle Polymer is an increasingly popular alternative to traditional concrete for utility infrastructure. Polymer concrete is produced with a precise mix of aggregate and resin, reinforced by a fiberglass cloth. The resulting boxes are lighter weight than similar-sized concrete boxes, yet offer greater performance strength with improved chip resistance.
STRONG
Oldcastle Polymer products can withstand incidental traffic from light and medium-duty trucks, while also tolerating shipping and handling stress.
EASILY MODIFIED
Oldcastle Polymer allows for easy field modification with common power tools. Contractors and installers can modify these enclosures quickly with ease.
VARIETY OF SIZES
We understand that variety is important to meet the various needs of your projects, which is why we designed Oldcastle Polymer in a range of sizes and depths to provide the right enclosure for your project.
Specs & Downloads
Helpful Information