Carson®
Carson® products are made of structural foam high-density polyethylene with UV inhibitors to provide a lifetime of consistent performance in a variety of weather conditions.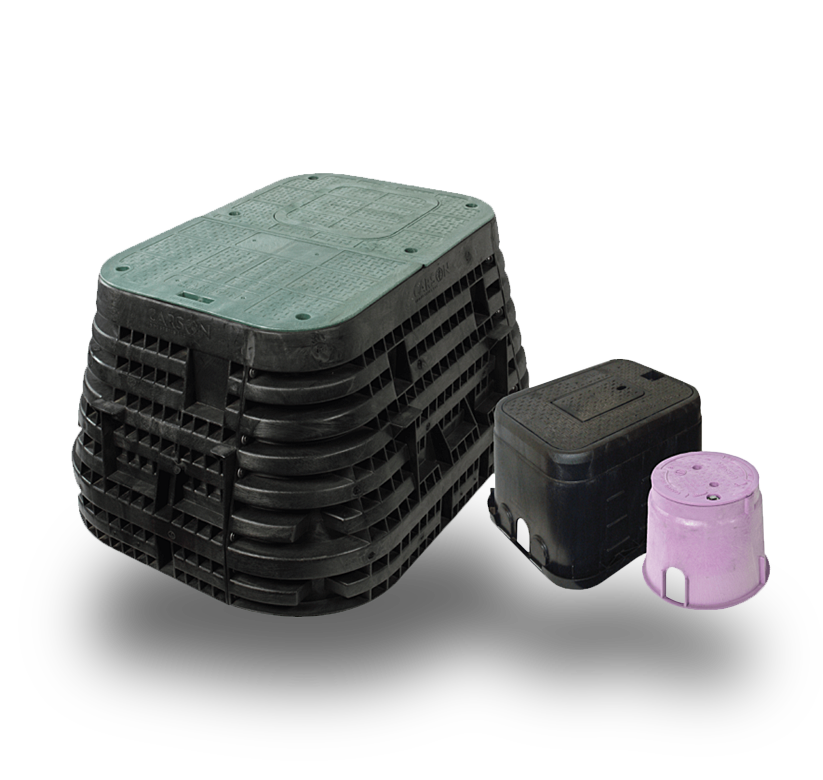 Overview
A NAME YOU TRUST. DURABILITY YOU EXPECT.
Carson® high-density polyethylene (HDPE) products deliver reliable, chemical and water resistant performance and install with ease. The Carson® product line offers a wide variety of sizes and is preferred and specified by industry professionals nationwide. You can depend on the trusted Carson® product line, delivering reliable hand holes, valve boxes, meter boxes and vaults for nearly 50 years.
Features
Product Line Offerings.
Carson® TrussT and Specification Grade
Carson® TrussT valve boxes are value-engineered to achieve top-down strength for lasting access to irrigation systems. Sidewalls feature "truss" reinforcements to withstand passing pressure from push-mowers, domestic riding mowers, and other do-it-yourself gardening equipment.
Carson® Specification Grade  is the original grade level access boxes. They are designed for vertical and lateral strength. This enclosure can accommodate many pipe configurations.
Carson® BCF Heavywall™
Carson® BCF Heavywall™ design includes straight walls and a paving flange. These boxes are available in a variety of sizes and heights and are engineered to accept all types of covers: including Iron, Plastic, Composite, Steel, Polymer Concrete, and Heavy duty Plastic. Our BC style is customizable and able to accommodate many pipe configurations.
HosEnclose™
HosEnclose™ Underground Garden Hose Storage System offers quick, convenient access to water and garden hose in a variety of settings. Handy near potted plants & flower beds for daily watering, hardscapes & patios for occasional cleaning, and driveways for washing vehicles. Easily installs in landscapes and wood patio decks.
Specs & Downloads
Helpful Information