Highline®
Oldcastle Infrastructure is working with engineers, contractors, and suppliers across the world to deliver the most efficient, high-quality products that protect the critical infrastructure both above and below ground.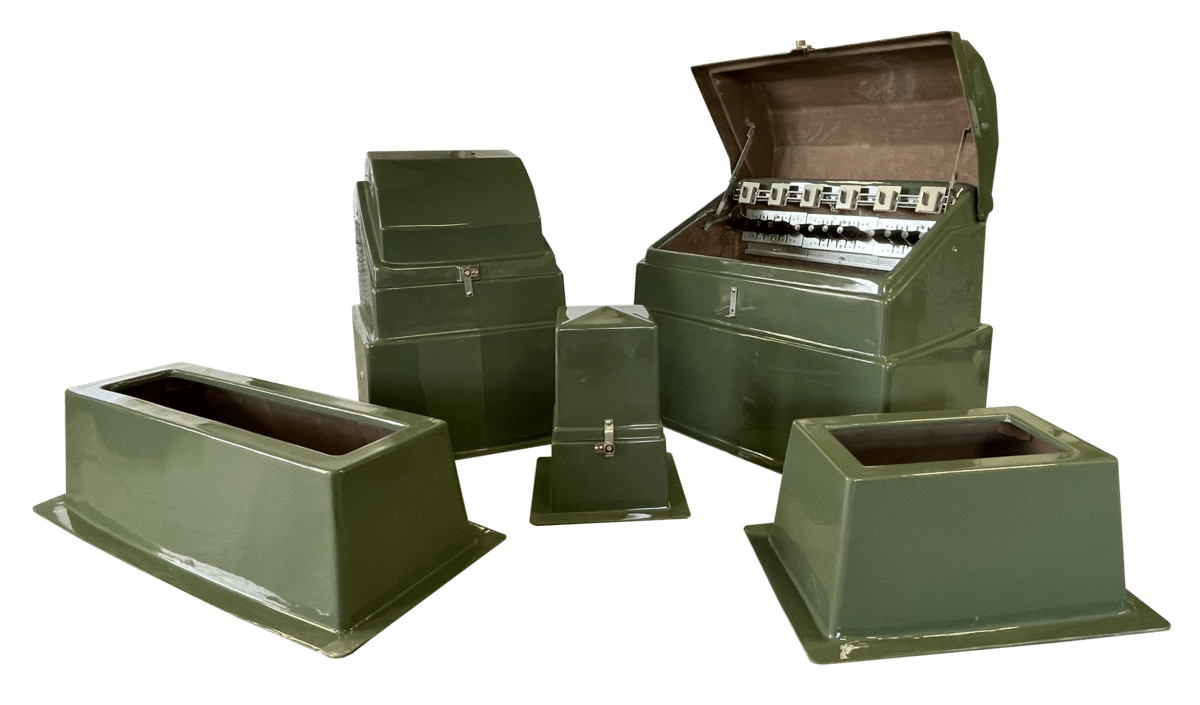 Overview
A NAME YOU TRUST. DURABILITY YOU EXPECT.
Highline® energy products, highly-durable and lightweight Millennium line of compression molded transformer box pads to our low-cost, stackable box pads, Oldcastle offers the quality and customization you need for any application. Oldcastle Infrastructure manufacturers two styles of fiberglass electrical distribution enclosures for utilities: compression molded and spray-up. While compression molded products are an industry standard, spray-up products offer an alternative to larger or customized parts
Features
Product Line Offerings.
Highline® Transformer Box Pads
Lightweight fiberglass box pads for single-phase and three-phase transformers. Available products include our HL Series of compression molded fiberglass and our FBP and FSG-RT Series of spray-up/lay-up fiberglass and woven cloth. 
Highline® Switchgear Pads, Ground Sleeves and Metering Pedestals
Easy-to-install fiberglass foundations for sectionalizing cabinets, primary switchgear, metering pedestals and other utility-grade equipment. Our spray-up/lay-up manufacturing process results in lightweight, strong, and durable products that nest for reduced storage and shipping requirements. 
Highline® Transformer Flat Pads
Polymer concrete pads are strong, durable foundations for single-phase or three-phase pad-mounted transformers and a superior, lightweight option to concrete pads. HDPE pads are available for single-phase transformers and are extremely lightweight without compromising strength. 
Highline® Sectionalizing Cabinets
Lightweight, durably-constructed fiberglass cabinets manufactured with our spray-up/lay-up process. External ribs and step design provide rigidity for single-phase, three-phase, and deferral cabinets. Cabinets are fire and corrosion resistant and can be supplied with junctions and delivered ready for installation. 
Highline® Secondary Pedestals
HDPE injection molded structural foam pedestals have superior side wall and top loading strength, are lightweight, easy-to-handle, and UV stabilized. Some units available with pre-installed connectors. Our FSP Series are heavy-duty reinforced fiberglass with strengthened stress areas and locking hardware with optional locking service entrances available. 
Highline® Pole Top Extensions
Filament-wound fiberglass epoxy extensions that are UV resistant with excellent weatherability and exceed strength requirements of class 2-10 wood poles. Available from 36" to 120" with galvanized steel mount that accommodates pole diameters of 6" to 12". Ideal alternative to pole replacement and a great solution for wireless 5G and communication antennas. 
Highline® Gate Valve & Service Boxes
Curb Service Boxes and Roadway Valve Boxes protect and provide access to underground valves for gas and water utility services.
Specs & Downloads
Helpful Information